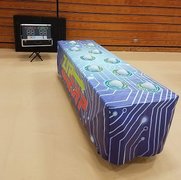 Zip Zap Game
$180.00
Dimensions: 8'L X 2'W
Outlets:
Monitors:
Zap Zip Table-Top Game is based on the unique combination of light, sound and games. Interactive spots are wirelessly connected to the scoreboard to enable challenging games between players. Zap Zip features 3 different fast-paced games ("Light Hunter," "Steal the Light" and "Back to Base"), and is perfect for all ages.
8ft. Table is needed at a cost of $10 dollars, if you can not provide one, for this Fun Game.
Please put it in the notes if not needed so we can adjust the prices.