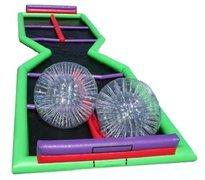 Zorb Hamster Ball Challenge
$599.00
Dimensions: 75'L X 23'W X 4'H
Outlets: (1) Seperate electrical outlet, on its own curcuit, within 100ft. of the Inflatable
Monitors: Supervision IS REQUIRDED at ALL TIMES
75FT ZORB TRACK
$599.00 for a 4 Hour Rental Requires 2 Attendants at all times, for an Aditional Fee
Description: Climb in one of our 10 foot Spheres( ZORBS), Enjoy a competitive race as this two player ride races 75ft. The large zorb ball acts as a human hamster ball keeping the riders safe and secure. Riders will race 75ft to the end of the zorb ball race track and then turn around and race back. The harder and faster the participant runs, the faster the ball will move. If you are planning a post prom, youth function or corporate event than this ride will be a great choice.

Please call to reserve this item.
Requirements: Inflatable track requires a relatively flat surface about 28ft x 79ft within 80 feet of an electrical outlet. We prefer to set the inflatables up on grass, but concrete or asphalt are acceptable as well. Sticks and rocks must be cleared from the area before we arrive. The inflatable can be setup indoors if you have an auditorium or gymnasium available at a nearby church or school.