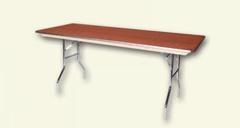 8ft. Long Tables
$10.00
Dimensions: 8x3
Outlets: 0
Monitors: 0
Need a place to hold presents, food or a somewhere to eat? Here's the answer. These Rectangular 8' tables seat 6 adults comfortably or 6-8 children.
This price is per table, if you need them delivered and picked up
There will be a deliver fee, unless your placing an inflatable order over $200.00 dollars.
Please call the office with your location and we can qoute a delivery fee.