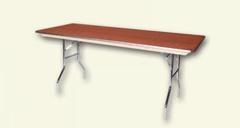 8ft. Long Tables
$10.00
Dimensions: 8x3
Outlets: 0
Monitors: 0
Need a place to hold Presents, Food or a somewhere to eat? Here's the answer. These Rectangular 8 feet long tables seat 8 adults comfortably or 8-10 children.



This price is per table, if you need them delivered and picked up


There will be a delivery fee, unless your placing an inflatable order over $200.00 dollars.

Table Coverings Are Recommended due to ware and tear. Tables are cleaned weekly, some cleaning may be required if table was used the night before, the driver will do this on site if needed


Please call the office with your location and we can qoute a delivery fee.